Subscribe Now: 1 Full Year of WDW For Only $24.97!
Get full access to the WDW Crowd Calendar, Lines Mobile App, Touring Plans and More!
"Our TouringPlans subscription was a lifesaver on our trip. One of the busiest days of the year, and we never waited longer than 20 minutes!"
- Smith Family, KY
2023 Dates
Note that all these 2023 dates are in the past. Future Mickey's Not-So-Scary Halloween Party dates will be posted when they are known.
Park: Magic Kingdom
August:

11,

15,

18,

22,

25,

29

September:

1,

4,

8,

10,

12,

15,

17,

19,

22,

24,

26,

28,

29

October:

1,

3,

5,

6,

9,

10,

12,

13,

15,

17,

19,

20,

22,

24,

26,

27,

29,

31

November:

1
Mickey's No-So-Scary Halloween Party (often abbreviated MNSSHP) is a hugely popular event, well, actually a series of events, at the Magic Kingdom that happens in months leading up to Halloween. These parties are after-hours, separately ticketed happenings scheduled several times per week in August, September, and October (and occasionally in November).
2023 Prices
The Halloween Party is an after-hours event, meaning that the Magic Kingdom closes at 6 pm to all except those who have party tickets. In 2023 adult party tickets range in price by date from a low of $109 in late August to a high of $199 around Halloween.
Tickets go on sale to the public on May 2, 2023. Disney Resort Hotel guests can purchase starting on April 27. Typically many party dates sell out, so we recommend purchasing tickets early.
Event Offerings & Activities
Here's a preview of what party guests can expect from the event:
The return of the Headless Horseman and "Mickey's Boo-To-You Halloween Parade," along with the Haunted Mansion graveyard diggers.
The "Hocus Pocus Villain Spelltacular" at Cinderella Castle starring the Sanderson Sisters.
Themed overlays for Space Mountain, Mad Tea Party, Pirates of the Caribbean, and Monsters, Inc. Laugh Floor.
Sweet and savory festive treats and event-exclusive merch.
Jack Skellington as the host of "Disney's Not-So-Spooky Spectacular," a nighttime display of fireworks, music, projections, lighting, and characters.
Favorite Disney characters dressed in their Halloween best!
The Cadaver Dans Barbershop Quartet
"Disney Junior Jam" dance party at Storybook Circus starring Disney Junior characters.
And, of course, LOADS of glorious candy (including allergy-friendly treats) at the park's trick-or-treat trails!
Discounts are available for Annual Passholders and DVC members on certain dates.
It should be noted that any guest with a Halloween Party ticket can enter the Magic Kingdom starting at 4 pm and stay until the party ends at midnight, meaning that it is quite easy to save a day on Magic Your Way tickets. This practice is not officially advertised by Disney, but it has been in exercised for many years and Cast Members will readily confirm this information.
What a Ticket Gets You
The price of your ticket does not simply gain you admission to the Magic Kingdom, there are several fun aspects of the Mickey's Not-So-Scary Halloween Party as well.
Mickey's "Boo-to-You" Halloween Parade
Truly one of the best, if not the best, parades at Walt Disney World, Mickey's "Boo-to-You" Halloween Parade is a Halloween staple for many Disney fans. It is started off by the Headless Horseman himself thundering (well, trotting) down the parade route putting a little bit of the "scary" in not-so-scary. Following him is a cavalcade of floats and performers featuring many favorites as well as the more Halloween themed ones like gravediggers or zombies.
There is usually two parades each party and they are very popular. The second parade will be far less crowded than the first, so see that one if you can. If you intend on seeing the first one, line up for your spot plenty early. An hour should do it, especially if you go to a slightly less popular viewing location such as Frontierland.
A quick word of warning: some of the characters in the parade may freak out small children. Also, the amount of time you spend singing the song "Boo To You" after seeing the parade will definitely freak everyone out.
Boo-to-You has two performances during each Halloween party, 9:15 and 11:15.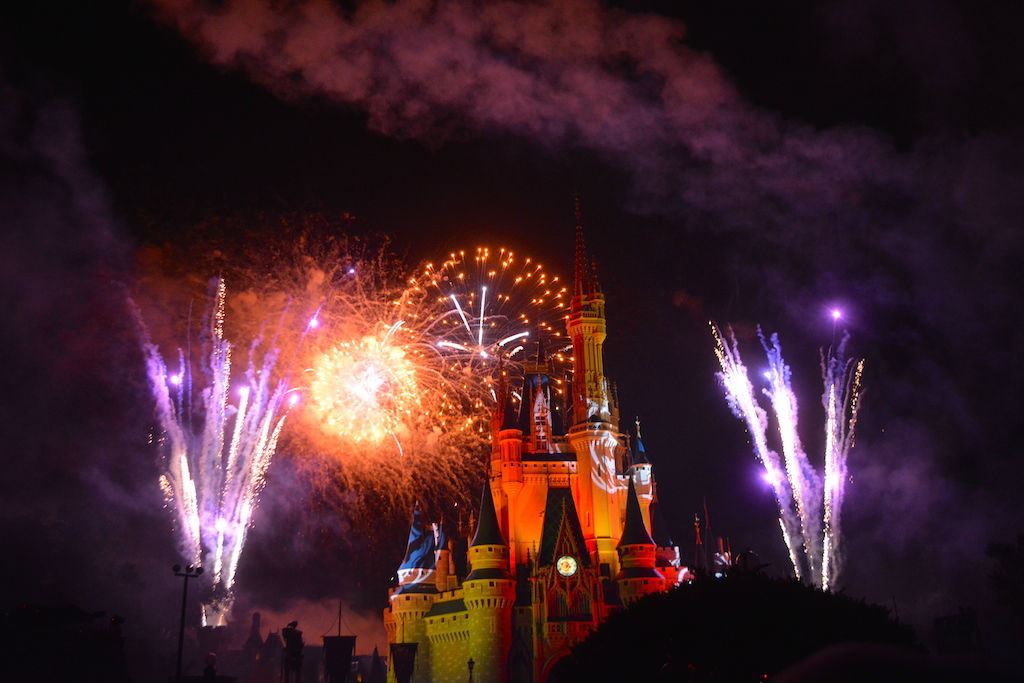 Not-So-Spooky Spectacular Fireworks Show
As if the great Boo To You Parade wasn't enough, the Mickey's Not-So-Scary Halloween Parties also feature what might be the best fireworks display at Walt Disney World. Disney's Not-So-Spooky Spectacular is hosted by Jack Skellington which uses projections, lasers, and lots of fireworks. Mickey, Minnie, Donald, and Goofy show up and find themselves drawn to a mysterious house and each room of the house reveals a spooky, but not-so-scary, surprise.
There is only one performance (at 10:15 p.m.) of the fireworks per party, and it is a must-see. A sizable portion of the crowds depart following the fireworks which make the final two hours of the party even more manageable.
Hocus Pocus Villain Spelltacular
Hosted by the three sisters from the Disney film Hocus Pocus, this Villain Spelltacular is held on the Castle stage and features a multitude of malevolent masters from Disney's favorite movies. Dr. Facilier (The Princess and the Frog), Oogie Boogie (The Nightmare Before Christmas, and Maleficent (Sleeping Beauty) appear in this show, which also feature "projections and special effects." Knowing how popular villains are and the central location for this show, expect it to be quite popular.
Halloween-Based Rides
In addition to attractions being available (see below), a few rides in the Magic Kingdom will be slightly modified to make them a little more (not-so) scary:
Space Mountain goes completely black (and trust us, it's noticeably darker) and adds a rock-like soundtrack
Pirates of the Caribbean features interactive (i.e. non-robotic) pirates that enter the attraction
Mad Tea Party has new lighting effects
Not really a ride, but a treat trail leads into Monsters, Inc. Laugh Floor where guests will encounter some monsters of their own
Character Meets
If you really want to meet the Seven Dwarfs, Jack Skellington and Sally (from The Nightmare Before Christmas), or Captain Jack Sparrow the Halloween Parties are one of the few opportunities to do so. Unfortunately, many of these and other rarely seen characters get the long, long lines deserving of their popularity.
It is not uncommon for people to line up for the Dwarfs or Jack and Sally around 4:30 pm…and they start meeting guests at 7! There are a lot of other characters around as well with more agreeable waits such as the Tremaines (Cinderella's step-family), Jafar, and Gaston, so you'll want to decide ahead of time just how important meeting some of these Disney celebrities are and how long you are willing to wait.
Another reasonably popular meet and greet opportunity is to stop in and see the princesses, who have dragged their princes out to meet the adoring public for this special event. If you want to visit some characters without wasting valuable party time, many of the regular characters are out in their Halloweeney best including Mickey, Donald, and Winnie the Pooh. There is no shortage of available meets, but there is a shortage of time so prioritizing is of utmost importance.
Dance Parties
If being in general proximity of Disney or Pixar characters while burning off a few of those candy calories sounds like a magical mix to you, the dance parties are your jam. The Halloween parties feature two separate dance parties: Storybook Circus Disney Junior Jam and the Monstrous Scream-o-Ween Ball.
The Scream-o-Ween Ball featured characters from Monsters Inc. and takes place at the stage in Tomorrowland. The Disney Junior Jam takes place in Storybook Circus and lets you and your little ones jam with Disney Junior characters like Doc McStuffins. Dance parties are exactly as they sound: loud music and flashing lights and lots of kids (and adults) dancing. The best part is that the characters move around constantly giving just about anyone who wants to a chance to get jiggy with the character of their choosing.
Trick-or-Treat Stations
What is Halloween without candy? Well, it's just people dressing oddly, that's what! Disney clearly agrees because they supply ample opportunities for equally ample amounts of sweets at Mickey's Not-So-Scary Halloween Party. There are often 9 or so Trick-or-Treat stations scattered throughout the Magic Kingdom where your little ones, or their parents, can grab some treats.
In addition to the stations, there are two Trick-or-Treat Trails, one near the Splash Mountain queue and the other starting near Space Mountain. These trails are a simple path of treat stations allowing Halloweeners to get to that sugar rush as quick as possible.
If anyone has a particular food allergy, Guest Services at City Hall has allergy-free options.
Plus… Rides!
As if you didn't have enough to keep you busy at the Halloween party, many of the popular attractions remain open during the event. Since the party is a limited-ticket event, lines for the rides are at a minimum. Although it is hard to recommend using valuable party time to ride an attraction that is open every day, if there is something you have been itching to get on the party may be a good time.
Note that not all attractions are open, and the specific rides that are available may change at any time. See Attractions Open During Mickey's Not-So-Scary Halloween Party list at the bottom of this page.
Crowd Information
Mickey's Not-So-Scary Halloween Party is an event with a limited amount of tickets. That means that the Magic Kingdom will never be as busy during a party as it will on a crowded day. That said, the nature of the party means that crowds will be concentrated around the events, especially the parade and fireworks. This may make it seem more crowded than it is.
If you have a choice of parties to attend, they are busier the closer Halloween gets. If you can attend one in early to mid-September you will find it less crowded than one in late October. Day of the week tends to matter as well, with Monday through Thursday evenings being less busy than the weekend events.
Costume Information
While not required, many guests, both children and adults, choose to wear costumes to MNSSHP. In 2016, Disney updated the party costume guidelines. In general: Disney reserves the right to deny admission to or remove any person wearing attire that is considered inappropriate or attire that could detract from the experience of other Guests. All Guests may dress as their favorite character, but may not pose for pictures or sign autographs for other Guests. Costumes must be family-friendly and may not be obstructive, offensive, objectionable or violent. Costumes may not contain any weapons that resemble or could easily be mistaken for an actual weapon. Costumes may not contain sharp objects, pointed objects or materials that may accidentally strike another Guest.
For Guests Ages 13 and Under: Costumes and some masks may be worn, as long as the mask does not cover the entire face and eyes are visible.
For Guests Ages 14 and Older: Layered costumes or costume props that surround the entire body are strongly discouraged and may be subject to additional security screening. Costumes may not reach or drag on the ground (e.g. full-length Princess dresses). Capes may be worn if the length does not go below the waist. Themed T-shirts, blouses, sweatshirts, and hats are acceptable. Acceptable accessories include: transparent wings, plastic light sabers, toy swords, and tutus. Headwear may be worn as long as it does not cover the face. May not wear masks of any kind.
Attractions Open During Mickey's Not-So-Scary Halloween Party
The roster of attractions may vary day-to-day due to refurbishments and other factors, but the list below is what is normally available during Mickey's Not-So-Scary Halloween Party.