Subscribe Now: 1 Full Year of WDW For Only $24.97!
Get full access to the WDW Crowd Calendar, Lines Mobile App, Touring Plans and More!
"Our TouringPlans subscription was a lifesaver on our trip. One of the busiest days of the year, and we never waited longer than 20 minutes!"
- Smith Family, KY
SPOILER ALERT – I'll be using words like costume and mask which may dull the magic a bit for true believers. If you're in that camp, feel free to move along now. OK, now that we've gotten that out of the way…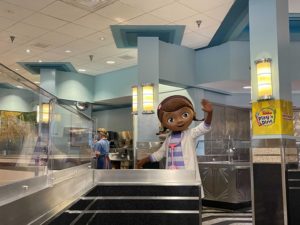 What is exactly is a character?
Characters are the live version of animated creatures/people found in Disney films and television programs. Characters appear in the Walt Disney World parks and resorts in meet and greets, cavalcades, stage shows, at character meals, and in surprise happenings. While a character may be just inches tall when you see him on TV, all the in-park characters are adult human size or larger -sometimes much larger.
There are two types of characters: "fur" characters and "face" characters. Fur characters are those with an oversized, non-moving mask serving as their entire head. Typically the fur characters are animals such as Mickey and Minnie, Goofy, Donald, and Pooh. There are some "human" fur characters, notably Captain Hook, the Incredibles, and Doc McStuffins, but these are less common. Face characters have a fully human form – they look like real people, with nothing obscuring their eyes/nose/mouth. The essence of the character is conveyed via costuming, wigs, and makeup. Face characters include all of the princesses and their princes, Peter Pan, Jack Sparrow, Alice, Mary Poppins, and more.
In the Star Wars realm, Chewbacca is a fur character (about as furry as they come) and Rey is a face character.
Other than appearance, one of the key differences between face characters and fur characters is that face characters talk, while fur characters generally do not.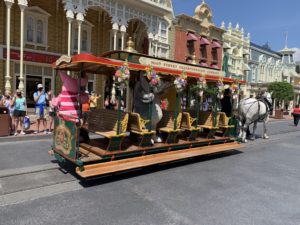 Fur characters don't talk? I thought Mickey Mouse talked?
The Mickey Mouse stationed at the Magic Kingdom's Town Square Theater did talk for about five years, but this experience was discontinued in mid-2018. Mickey had a set of prerecorded phrases he could say, but the interaction was not a true free-flowing conversation. Some folks LOVED the experience of meeting talking Mickey, but I found it terrifying. And I don't think I was alone; I observed several petrified children refuse to interact with talking Mickey. And in one particularly heartbreaking incident, I happened to be in the queue behind a special needs adult and his family when he started screaming in fear when Mickey started speaking. Personally, I'm glad that talking Mickey is a thing of the past at WDW.
Mickey, Minnie, and other face characters will "talk" during stage shows. The characters have coordinated movements synched to pre-recorded dialog, but their mouths won't move while this is happening and there are currently no fur character who can have a one-on-one conversation with a guest.
How many characters does Disney have?
There's no exact count of the number of characters that have appeared in the Disney World parks. Over the years, something on the order of several hundred different characters have "visited" Walt Disney World. On a typical day now, you'll usually find a few dozen different characters in the parks.
Do you have a list of the characters I might be able to see in the parks during my trip?
The characters that appear in the parks change with some regularity and there is no official Disney-sanctioned list of in-park characters. We have a list of 50 park characters, but even that is not entirely comprehensive.
Additional characters may be found at runDisney events, during holiday events, or at after-hours parties or in other special ticketed situations.
The available characters aren't on the Disney website? I thought I saw it there.
You can suss out some character appearances using the disneyworld.com website and/or the My Disney Experience app. For example, on the website go to "Things To Do" and then scroll down to click on "Character Experiences."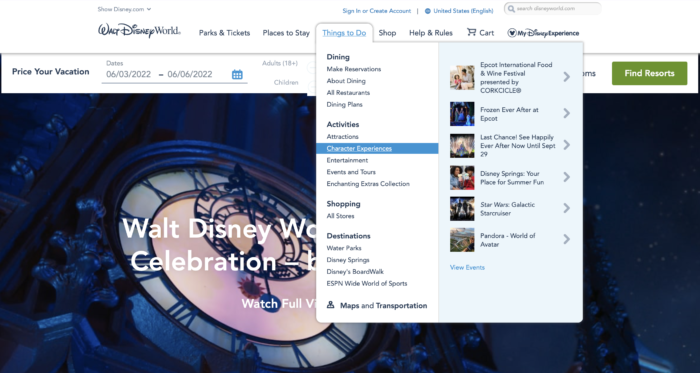 From there you'll see some of the entertainment options that include characters. (Notably missing below - any mention of the Magic Kingdom.)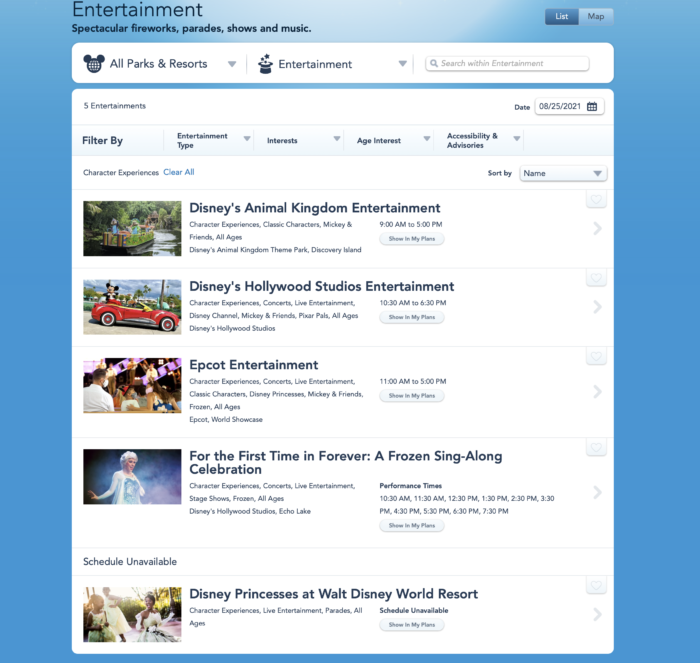 Clicking on these items you get a general sense of things that might include characters. Some are obvious - Mickey and Friends Flotilla definitely includes Mickey, but who else? And two of the items listed here, Discovery Island Drummers and Feathered Friends in Flight, are not character experiences.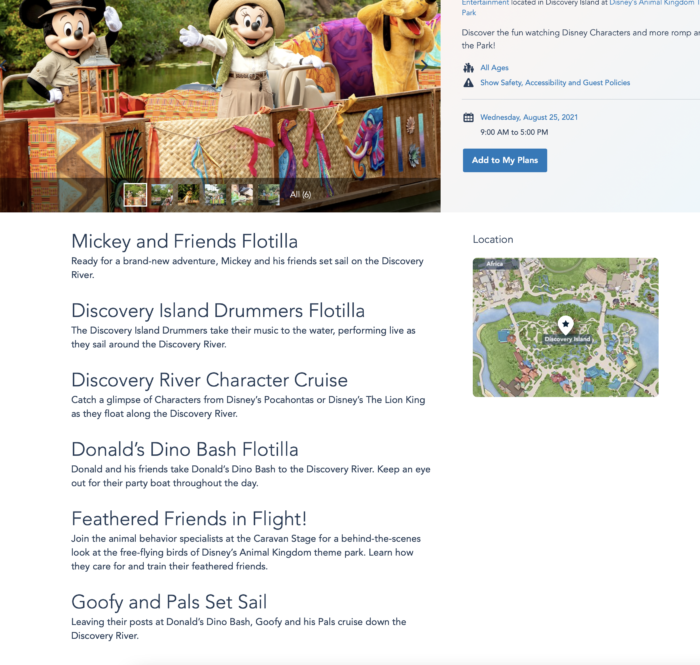 I've seen mentions of Disney, Pixar, and Star Wars characters in the parks, but no Marvel characters. Doesn't Disney own Marvel? Why can't I see a Marvel character at Disney World?
We met Captain America on a Disney Cruise Line ship, but currently there are no Marvel characters greetings at Walt Disney World. The layers of legal complexity that surround this question are many and varied. The upshot is that Disney does own the rights to lots of Marvel content. You can meet Marvel characters on some Disney Cruise Line sailings and at the Avengers Campus at Disneyland, but due to an pre-existing contractual obligation, Disney is not allowed to use most Marvel properties on land, in the United States, east of the Mississippi River. Guardians of the Galaxy is not part of the old contract, which is why we're able to get a GotG coaster at Epcot and why you might be able to meet Star Lord there at some point (no scoop, just a guess). But in the meantime, if you want to meet Spider-Man, the Hulk, and their cohort in the Orlando area, you'll have to do it at Universal Islands of Adventure, not Walt Disney World.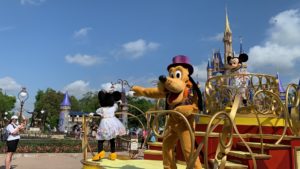 Can I hug Mickey Mouse?
Yes. Hugs returned to character meet and greets in May, 2022.
What about character meals?
During character dining, characters stop at each table to interact with guests. This gives everyone in the restaurant some time for one-on-one interactions. That's your chance to take some pictures, get autographs, and a couple of hugs.
Can I get a character autograph?
Most characters are able to sign autographs during meet and greets.
Are there characters in the Disney hotels?
This typically only happens at character meals based in the hotels (Chef Mickey's at the Contemporary, for example) or in odd circumstances such as entertainment during a hurricane when guests are confined indoors.
Are character appearances ever impacted by the weather?
Yes. Any outdoor character appearance may be cancelled during rain and possibly even during extreme heat or cold. If it's pouring rain at Disney World, you're unlikely to see a cavalcade pass by.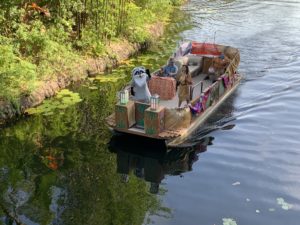 Will my child be afraid of the characters?
It really depends on your child's temperament. Few children are afraid of face characters – they just look like people wearing odd clothing. The fur characters are the ones that cause problems of a small, but vocal, subset of children. Most kids are unfazed by meeting Mickey and the gang, while others are reduced to a quivering ball of tears any time they get near a giant mouse.
If you have some concern that your child might exhibit character fear behaviors, try finding a costumed character in your hometown (perhaps at a birthday party or Chuck E. Cheese type venue) to practice with. At least with the information, you'll be able plan accordingly.
And if there's any silver lining about the current state of character appearances in the parks, it's that skittish kids are in much less danger of having a meltdown because the characters do not have an opportunity to get close to them.
Last updated by Erin Foster on May 16, 2022